Daniel S. - Passionate and Knowledgeable Math and Physics Tutor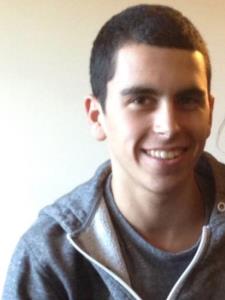 $70 / hr
New York, NY
5 miles Travel Radius

In-person + Online
I've had a passion for math and physics since I was a kid. I love sharing my knowledge of these topics with others and watching them improve. I'm dedicated to making sure students learn math/physics concepts rather than just memorizing formulas. I have a unique way of teaching that really helps students comprehend the topic at hand. My students say that I can sense what they need and that I have an ability to ensure that they understand the concepts. If the student is not satisfied and still ...
Reviews
Daniel worked great with my daughter. He went over the material step by step. He did not move on unless they understood. We will use him again. Thanks, Daniel.
- Jennifer S. from New York, NY
He adapted his delivery to the way my son learns. Some key points are: --Explains things clearly, consistently and communicates well. --Explains concepts in different ways to help him understand. --Prepared for every session with relevant exams --Exhibited patience to take the time to repeat information if necessary. --Improved his math/science skills. --Extremely knowledgeable in math and science. --Reliable, responsive and punctual always. Overall is was a great experience and we would highly recommend him.
- Lisa S. from New York, NY
Daniel helped me prepare for my first Physics midterm and made sure that I could understand the concept and find the correct answer on my own. He was encouraging and patient throughout the lesson and was extremely helpful!
- Ellie K. from New York, NY
My daughter likes his teaching methods in physics. He is enthusiastic and seems as though he truly enjoys teaching the material. He has a vast knowledge in the STEM field.
- Hiroko S. from New York, NY
Daniel S. took his time and reviewed the sections I needed help with until I completely understood the subject. 5 stars
- Justin G. from New York, NY
In the first session, Dan assessed my son's current understanding of geometry. My son came home and said Dan was very helpful in explaining the process involved in solving the equations. He can often solve the problem without being able to explain how he got there. My son is bright but not academically focused and needs that extra push. I believe Dan will give him the push that he needs.
- Jennifer B. from Ithaca, NY
I needed help with improving my SAT II score. He helped out a lot by simplifying topics, writing charts, and drawing parallels between seemingly different topics. My practice test scores have improved quite a bit just after one session.
- Katya S. from New York, NY
Daniel worked with my son to help him master Columbia University's Differential Equations course. To Quote my son " I would not have passed without him". He is a five star tutor.
- Ripley H. from New York, NY
Daniel makes physics much more understandable. He is extremely knowledgable about all aspects of physics, even at college level. He is exceptionally efficient at covering a great deal of material in a very short time. I enjoyed working with him because he is patient with his students, even though the subject can be frustrating at times. I highly recommend Daniel to anyone who wishes to learn physics with the least amount of pain.
- Evan Y. from Los Angeles, CA
Daniel helped prepare my son for the Physics SAT 2 exam. He was very knowledgeable of the material and very accommodating of his schedule. He was able to effectively assess why my son was having a harder time with particular problems and streamline his approach to answering questions. He took a genuine interest in his success. I definitely recommend him as a Physics tutor.
- Ilana A. from Brooklyn, NY
Daniel was patient. Daniel is very smart but not cocky. He took the time out to make sure I understood the material!!! He was personable and he practically met everyone in my family. I highly recommend using him as a tutor!!!
- Martine L. from Brooklyn, NY
Dan was hired to tutor my 10 year old daughter in standardized test math. She adored him. The sessions were fun and Dan helped her immensely. He was extremely patient even at the nighttime session where she was tired and distracted. She took her test this Saturday and she said the sessions really helped. As a parent, I would give Dan an A+. He knows the material for high school level math and is able to explain it to my not yet ready for it... 10 year old. This means he was clear and capable of breaking down hard problems into easy to understand terms. And again, my daughter thought he was really fun. Bonus.
- Kimberly B. from New York, NY
Daniel is an incredible tutor! He is not only professional but very patient. The methods he uses to explain what he is teaching is extreamly helpful. If you need a problem explained in many different ways he can do that. Daniels teaching skills are one of the best that I've experienced. I even referred him to my younger sister who he is now tutoring. I would recommend him to anyone who needs a patient but energetic, tutor. He truly makes learning fun and never forgets to compliment you when you get something right!
- Khadija M. from New York, NY
Mr. Daniel during our tutoring session gave clean explains, that helped me to understand the problem given in my college physics book. When I was struggling trying to complete the math portions of the problems, he took his time to explain each step and made sure I understood what steps I need to take and how to approach each step to get the correct answer. He gave great advice on how to approach problems, and how to use each formula to get the correct answer.
- Petra C. from Brooklyn, NY
Daniel taught me several things related to vectors, forces, work, etc.. He was very good at explaining everything using very accurate real life examples which made me understand perfectly the topic.
- Simon G. from New York, NY
Concepts of limits factoring polynomials as well as rationalizing. Helped me obtain better understanding of material. Helped review for upcoming exam.
- Brian M. from New York, NY
He taught my son easier ways to navigate problems and check his work. Was very patient and took the time needed for my son to master what they worked on, before moving on.
- Christine F. from Ridgewood, NY
He will backtrack to achieve better understanding. Checks your understanding before proceeding on to the next subject. I learned about vectors and practiced kinematic equations.
- Amanda A. from Teaneck, NJ
Search More Tutors in the Montclair State Area