Yazhan L. - Actuarial science, Excel, SQL, Python, and Statistics tutor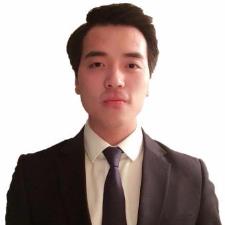 $80 / hr
New York, NY
10 miles Travel Radius

In-person + Online
I am an effective tutor. I graduated from New York University Stern School of Business with double majors in Actuarial Science and Finance and a joint minor in Computer Science and Mathematics. I am currently working as an Actuary. For actuarial exams preparation, I am able to help students to prepare their exams in an effective way without providing them with overwhelming exercises. My actuarial knowledge is applicable to both finance and statistics.

I am proficient in SQL, Python, and Ex...
Reviews
I came to Yazhan after attempting (and failing) the SOA FM exam twice. After about 4/5 weeks of working with him, I passed the exam. He was very patient with me, informative, flexible, and just as dedicated to my success as I was. He often knew short cuts to solving problems, or showed me easier ways to remember formulas and processes. Time management is priceless if you are looking to pass these exams, and if you are like me and need help with solving problems quickly and effectively, Yazhan is the tutor for you. After FM we moved onto P, and I passed it within about 10 weeks (starting from a vague memory of a probability class I had taken a year prior), which is a much quicker preparation period than is expected for these exams. Without him I would have never passed these two exams prior to graduating college, and I would not have landed a job prior to my graduation as well. If you are in search of an effective, dedicated and caring tutor, look no further. I will be coming back to him for future exams. Thank you, Yazhan!!
- Shannah G. from Cliffside Park, NJ
First time trying online tutoring and so far everything falls in my expectation. I?m glad about it and my headache should be solved soon with Yazhan?s help. He knows a lot on current popular coding languages, what?s the right packages to choose etc. well thank you Yazhan I?m expecting more~
- Mandy L. from Tallahassee, FL
Provided concise help and led me to understanding financial mathematics much better. Very satisfied with my lesson. I would recommend Yazhan to any actuarial science student.
- Vladimir P. from Chicago, IL
Yazhan has done a really great job and definitely cleared things up for me in preparing for the fm2 actuary exam. He is always prompt and on time and technically adept at the platform
- Alex J. from Atlanta, GA
I am an actuarial science graduate student and I needed Yazhan to help me with a long and complex life insurance project that required VBA coding on Excel. Yazhan was absolutely great! He not only had the ability to help me correctly code the VBA section of my project; but his expert knowledge of actuarial science and life contingencies in particular completely eased my explanation of my requirements for the project; and it also was instrumental in correcting my understanding of the requirements when I was wrong. Yazhan was very patient and took his time in answering all my questions. To top it all off, Yazhan made the time for me and my project at very short notice and within literally days to the deadline of submission. It was a group project, and my team members were not able to run a successful VBA code on our project's excel; and Yazhan was a godsend at that point. He's definitely the type who would take on your challenges if he can, and he will care about your needs. Yazhan is extremely personable and very genuine. The first time I met him, I went to the wrong address (mistake on my part), and Yazhan pushed up another session to make time for me to arrive at a later time and still get the hour and a half I signed up for that night; and best of all he didn't charge me for his time even though it was my mistake. He is an awesome tutor who will definitely help you with your work and help you learn.
- Khalifa A. from New York, NY
Yazhan is very patient, methodical and dependable. He has helped me with an Intro to Stats course that is very challenging since it is an accelerated course. He is able to find quick and simplified ways to solve problems and provides many examples along the way that are helpful. I have had a very positive experience and highly recommend.
- Sarah K. from New York, NY
Yazhan helped me learn SQL to prepare for an interview. I feel so much more confident in my skills after Yazhan's help and would 100% use him again. He was one of the MOST helpful tutors I have ever had and clearly explained all the information in a way that is easy to remember. Some of the concepts were hard to grasp, but Yazhan made them easy to understand and implement. He was also extremely flexible on when/where to meet which I really appreciate. Overall, it was a great experience and I recommend him to anyone needing help with coding!
- Marissa P. from New York, NY
Search More Tutors in the Montclair State Area