John C. - Experienced High School, College and Adult Ed Tutor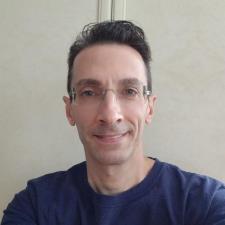 $80 / hr
Westfield, NJ
7 miles Travel Radius

In-person + Online
My experience with tutoring began in high school when I tutored my classmates in math and English. At that time, I discovered that I was able to simplify complex topics in a way that others find very helpful. Simplifying complex concepts has helped me and my clients both in software engineering and in learning the Italian language.

I am a software engineer by trade and have worked in the industry for many years. I can help you learn general programming practices or specific skills such as ...
Reviews
He helped my daughter with her assignments in AP Computer Science specifically programming in Java. She was very stressed out about this class, but he has put her mind at ease and helped her immensely. He has tutored her twice and I will continue to use him throughout the rest of the semester. I honestly can't wait for this class to be over and I am not the one taking the class. Highly recommend!!!
- Shirley C. from Tuckerton, NJ
John successfully taught the installation of Apache/Tomcat on a new server. He configured the system to run previous Java Script code imported from another server along with other functionality.
- Gordon N. from Whitehouse Station, NJ
Calmed my nerves for my upcoming tests and case studies. He was an amazing tutor. I am definitely booking my next session with him. He was patient and was not taken aback by all my questions.
- Meghna S. from Raleigh, NC
He helped me with my sql database coding. He taught and guided me along the way. Very patient knowledgeable and encouraging. I really enjoyed working with him.
- DEREK M. from Germantown, MD
I scheduled a lesson with John to learn about the Linux operating system. He was patient and helpful even though I was struggling with some very basic things. I appreciated his suggestion to approach this subject in a task-oriented way. And I'm psyched to learn more. ??
- Benjamin B. from New York, NY
does work before hand to make sure the lesson is productive, listens to you and incorporates your requests into a fun way to learn SQL, really blown away of the quality of the lesson, better than my teaching assistants at graduate school....
- Amul B. from Fremont, CA
John truly helped me and took the time to example each question. He gave me the opportunity to try the question on my own and then told me where i made Errors. I will Be going to John again in the future
- Danielle P. from Ronkonkoma, NY
I had a good session today with John and would recommend him to friends and family. Today we worked on a project for a bootcamp program I am in. I had a problem connecting to the app for the session through my browser but John hung in there until I could correct the issue. Thanks again, buddy.
- Bashari W. from Montclair, NJ
This was my first experience having a tutor on Wyzant and it was an awesome experience! John is super patient and clear, and explains concepts in a way that makes them easy to grasp!
- Greta S. from Bronx, NY
Excellent teacher - very experienced and knowledgeable as well as a great communicator. John helped me through some beginning steps of mySQL, including configuration and access to mySQL in Mac OS (i.e., using UNIX in the Mac OS terminal).
- Hugh K. from Alpharetta, GA
John was very easy to understand and brought it down to my level. He made the information common sense and approached one topic at a time. He was very effective, I highly recommend him.
- Tyler E. from Concord, NC
Wow, John saved me hours of struggling on my own to figure out SQL. He used my course material to break down complex issues and help me grasp the underlying logic then how to translate that into proper syntax. I highly recommend John for anyone learning SQL.
- Sam G. from New York, NY
John is extremely intelligent. He is amazing at explaining and helping. Hire him for anything that you need, seriously. He is able to go above and beyond for what you need!
- Anna C. from New York, NY
John has been incredibly helpful in getting me to understand complex ideas in java. He is very knowledgeable, patient and professional. John is also very encouraging and highlights my improvements which has given me more confidence. He makes sure I understand everything we are discussing. I have had several sessions with him and will continue to have him as my tutor for java.
- Paola Q. from Roanoke, VA
Great communicator! Explains complex problems easily! Demonstrates a strong understanding of database diagrams! I am looking forward to more lessons from John!
- Alex W. from Owings Mills, MD
Amazing! I love this guy fun to work with, honest, respectful, and most of all reliable, always on time. Thank you, John C.
- Albert Z. from Imperial, CA
John went over my SQL questions, reviewed my code, and provided feedback on the queries for every question. He also taught me how to use common table expressions and correlated sub query. He is very knowledgeable about the subject and the syntax across different applications (mySQL, PostgreSQL, msSQL). I'd recommend John for any serious students who would like to improve their SQL skills.
- Angela L. from San Carlos, CA
John is very knowledgeable, pleasant to talk to, and he was also very honest about it when the conversation veered into sections of AngularJS that are less familiar to him.
- Tanya L. from Dublin, OH
John tutored me in Java and helped me significantly. He really wants his students to do well, and spends as much time as needed in order to fully understand concepts. He also makes an effort to make his students feel proud when they accomplish something on their own. Without John, there was no chance I was passing my computer science class!
- Amanda Q. from Colonia, NJ
This lesson was on Java binary trees and John was able to help me understand this complex concept and apply it to my work.
- Mike C. from Buffalo, NY
Search More Tutors in the Montclair State Area